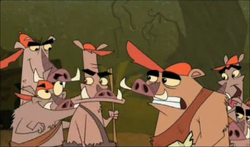 The
Stray Warthog tribe
is a tribe of warthogs, native to the Kook, who wear red baseball-style caps. Led by the sophisticated Harley (voiced by
George Buza
), the warthogs have no sense of direction, and continue getting lost, or "going
astray
". They are forever trying to find the special emerald of their tribe. When they aren't lost, they live in a teepee village.
Jiggers
temporarily became their monarch in "
The Beaver Who Would be King
", because he wore the same style of hat as they. He enjoyed this position until Harley asked him to retrieve the emerald from
Hiss Abyss
. After successfully fetching it out of the canyon (though it ended up rolling away into the forest), Jiggers and
Iggy
escaped back to
Mooseknuckle
. Jiggers was concerned over how he could hide away from the tribe, but they were too busy running after the emerald to notice he was gone. They were among the park residents who gave signatures for the highway petition in "
Petition Impossible
". In "
Ghost of a Chance
", a few past members of the tribe are seen in the flashback as Iggy tells Jiggers the legend of two miners who upset a group of natives at their traditional "drizzle dance".